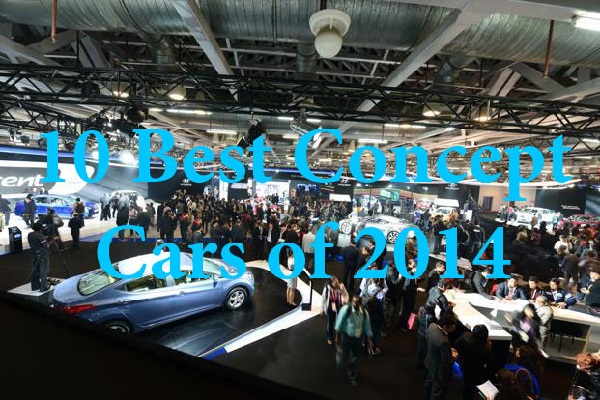 The year 2014 is perhaps the best year for automotive industry and at the just beginning of the year we have attended couple of Auto Shows and have seen several beauties at these Auto Shows and tried to make an imagination of the auto world to spot the future of new car designs. Every year the major auto makers roll out several coolest and charming new concept cars and this year is no exception. We have compiled a list of top concept cars of 2014 to check out the best concept car yet made, go through the list and comment for your most appealing concept.
1-     Land Rover Discovery Vision
There is now doubt about it that the Land Rover is one of the top automakers of luxury offroads and at the 2014 New York Auto Show the Discovery Vision concept proved it yet again. The major catch is the use of lasers to draw a map of the terrain in front of the vehicle.
2 – Mercedes-Benz AMG Vision Gran Turismo Concept
It has never been done before that any auto maker would design or build a full-size vehicle just for video game but at 2013 Los Angeles auto show, Mercedes-Benz done it with its AMG Vision Gran Turismo. With its astonishing lines, it gained a lot of attention with the hopes that someday it might become the reality.
3 – Audi Nanuk Quattro Concept
Audi Nanuk Quattro Concept was displayed at 2013 Frankfurt auto show as a sports car style offroad coupe. Its production is not intended but the LED Matrix headlamps will hopefully appear in next Audi production models.
4 – Maserati Alfieri
To celebrate its 100-year birthday, Maserati brought its Alfieri concept to the 2014 Geneva auto show which looked pretty promising as the Maserati stated that this car would show where they are planning to go in next 100-years.
5 – Volvo Concept Coupe
At the 2013 Frankfurt Auto Show the audience skipped a heart beat when they saw the new Volvo Concept Coupe. This beauty was never intended for production when launched but later a spokesman said they might consider it.
6 – Nissan IDx Freeflow
Nissan first unveiled its IDx Freeflow concept at the 2013 Tokyo auto show which was later displayed at the 2014 Detroit auto show, was not as attractive as the other concepts but with its bold lines it does reminded of Nissan's early '70s styling.
7 – Infiniti Q30
As the compact SUV segment has recently gained a lot of popularity, the Infiniti Q30 is one of the best concepts that hit the floors of 2013 Frankfurt Auto Show. What was shown at the show made it evident that the production model will soon be available.
8 – Kia Stinger GT4
Kia came up with its Stinger GT4 concept with rear wheel drive at the 2014 Detroit auto show. This concept was never intended for production but it sure did showed the world what Kia is capable of doing when it comes to building astonishing cars in future.
9 – Toyota FT-1
Toyota has produced so many cars that became the best selling cars for so many years. Keep that tradition alive, Toyota showed the world it could do the same with the sport cars with its FT-1 concept, which unfortunately was never been produced since its first appearance in 2014 Detroit Auto Show.
10 – Volkswagen T-Roc
At the 2014 Geneva auto show a new compact SUV model from Volkswagen was revealed to the world as the T-Roc. It does have a lot of flexibility with the choices of current Volkswagen engine and platform but may not be put in production.